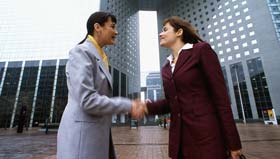 IT CONSULTANCY
We offer access to all of the talents of our dynamic team of analysts, engineers and consultants who together can provide you with everything an I.T. Department provides a major corporation for a tiny fraction of the cost.
The pace of technological innovation demands that businesses of all sizes need to be up to date to survive - a key strategy for the successful businesses in most sectors is correct investment in and utilisation of technology. To get these decisions right you need the best advice available, and DFK Systems can provide this for your company.



Our Services
We offer a complete range of consultancy, delivery and support services, giving you the option to request a specific skill or, more commonly, take a fully integrated end-to-end solution. We can help you in defining strategy, choosing appropriate technologies, procurement, custom configuration, project management and installation. Once implemented we then provide a range of support services to ensure long-term cost-effective performance.

Affordable Support Solutions
DFK Systems can provide a range of affordable and customisable support services that deliver a complete solution for your business. We know that good I.T. systems can fundamentally improve the way companies work – and we respect but relish this responsibility. We expect our customers to increase productivity and eliminate any waste on I.T. and we expect this to be reflected in our customer's bottom line.

Networks
Our network team has many years of combined experience in a diverse range of cutting edge technologies. We are able to offer a complete and managed end-to-end solution with a variety of services that cover your needs from planning through to delivery and special projects.

Procurement
Identifying and sourcing the right products and services to achieve your business technology goals is only half of the story - our procurement team can provide a complete requisition and fulfillment service that seamlessly integrates with your internal procedures. We can oversee the purchasing process from inception to implementation.

Bespoke Training Programmes
Getting the most from your investment in technology means showing your team how to use the tools you have given them. DFK Systems provide bespoke training programs designed to match exactly the criteria you want in all Microsoft applications, operating systems and a number of more fundamental areas that are often misunderstood like PC basics and the Internet.

Web development
We also offer consultancy in web design and development. DFK Systems also undertake any kind of web and multimedia development - no job is too small or large. For more information, please see the web development section.

<! -- antique-option -->