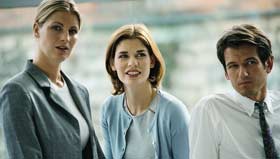 Managed Services
DFK Managed Services offer a wide range of remote Management solutions
for your business needs;
Managed Firewall
Managed Routers
Managed Servers



Managed Firewall
With the advent of broadband networks, many more businesses have begun to connect their company networks directly to the internet. The firewall is a basic security requirement within any network connected to the internet. DFK Managed Firewalls offer the flexibility to create and implement an easy-to-use yet uniquely tailored set of security policies, regardless of network size, connection speed or connection type.
Why do we need a firewall?
Protects your corporate networks and confidential communications
When connected to the internet, your networks are open to attack. Depending on your connection type, you may be inadvertently passing confidential information between your computers and a would-be attacker. A DFK Managed Firewall prevents interception of these internet communications and prevents these would-be attackers from learning important information about your network(s).
DFK Managed Services offer a large amount of options for your firewalls. We can offer a firewall for the home network through to the large multi-national corporate. We take all the responsibility for the security of your network and allow your IT personnel to continue with their day jobs. They no longer need to concern themselves with remote attacks.
Proactively identify and fix network security vulnerabilities before your network is compromised.
Each firewall runs DFK custom software to detect and alert our NOC staff in the event of a dedicated attempt to break into your firewall. By default, our firewalls will not accept incoming packets which have not been initiated from within your network. Only our NOC staff can gain access to your firewall remotely and can shutdown access paths for the would be attacker whilst we raise incidents with the ISPs involved.
Firewalls installed and managed by DFK Managed Systems trained personnel
We will ensure that our teams arrive on the agreed date of installation and that the unit is installed, to your satisfaction, in the agreed location. Once installed, our NOC staff will immediately begin to monitor your new firewall.
24x7 Management, Monitoring and Support
Using a wide variety of network management tools, we are able to keep your firewall under constant view. Our Security analysts are available 24 hours a day for our firewall customers.
Each device is monitored on a 24x7 basis. Should an alert occur, we will follow agreed procedures to either inform your IT personnel or will make necessary calls to your service providers for network updates. All security events are captured and analyzed in real-time with results fed back to our NMC. You will always receive emails when such events occur.
Each firewall is monitored for health and performance of the device on a 24x7 basis. This allows us to proactively address developing operational problems prior to actual service failures.
Each month, you will receive a full report detailing usage of your firewall. This is tailored to specific customer requirements but will give you an indication of what your firewall is really doing for your business.
Offsite Backups of Configuration Data
We take daily backups of all configuration information from your firewalls. This is to ensure that, in the event of firewall failure, we are better able to get your connection working as before.
We offer the option to filter your email/internet browsing based upon content matches. This is an add-on service but can drastically save on bandwidth costs.

<! -- antique-option -->